Description
The new revolutionary
Solar LED Road Marker
Single

and

Double

side

available

Steady or Flash Mode available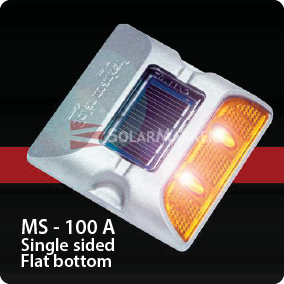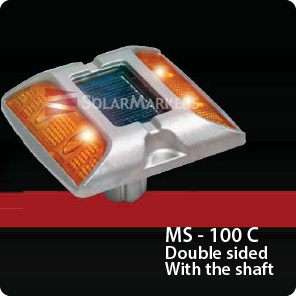 Feature
The constant flashes and integrated reflectors guarantee a driver's safe guide in streets at night and bad weather.
Pavement markings for no entrance warnings into one way streets and freeway off ramps.
Highly visible indicator of center divider and crosswalks at intersections.
Sharp curves or mountain roads with reduced visibility of roads ahead.
Hazard marking or delineation for bicycle and pedestrian trails.
Helpful in blind corners.
Fog hazard areas.
Airport arterials.
Accident black spots.
Hydrant marking.
Many other applications yet to be imagined!
CAD PLAN

SPECIFICATION
LED
High intensity emitting diode
LED Color
Normal: Yellow / Red || Optional: White / Blue / Green
LED Brightness
5000 mcd/one-side
LED Power Current
6 - 8 mA/hr
LED Quantity
2 pcs (2 x side) / Single & Double Side Available
Storage Device
LiFe4 (Lithium Iron 4) Battery
Solar Max. Output
0.16 watt max
Dimension Main Part
100(W) x 100(H) x 20(D) mm / 3.93 x 3.93 x 0.78"
Dimension Weight
300 g / 0.66 lbs
Dimension Anchor (MS100 C)
40 mm x 28 φ - MS 100 A- Type/ No shaft-Flat bottom
IP Rating / Protection Grade
IP 68
Radiation Type
Flashing Lighting Type : 65 — 70 Time per minute / 65 — 70 Hz Lighting fix : No intermittent
Symbol
1st D: Double Side or S: Single Side 6 - 8 mA/hr 2nd F: Flashing Lighting or S: Steady Lighting
Reflectors
True Cube - Corner type reflex (U.V. stabilized: #LEXAN 143)
Operating Temperature
- 20 °C to + 60 °C / - 4 °F to + 140 °F
Standard Condition of Dimension Main Part Charging & Operating
100,000 Lux During 2 Hour Charging 96 hours working
Body
Solar Cell & I.C (Integrated Circuit )covered with U.V coated Poly-carbonate (Super – intensity)